30 or so intrepid players gathered for an Early Bird tournament in Tempe.  Here are the happy winners:
The annual WGPO election closed at midnight December 14.
The bylaws revision passed overwhelmingly.  Henceforward, players in WGPO tournaments will be required to be members of WGPO.
All incumbents won reelection to their seats.  Mike Johnson and Steve Pellinen had no opposition for seats on the Executive committee.  Laurie Cohen, Maurice Ross, and Helen Flores retained their positions on the Board of Player Representatives, but Kirsten Gwillam made a strong showing.  I hope this encourages her to run again.
Complete results are at https://vote.electionrunner.com/election/9hais/results.
Thank you to all the candidates for your willingness to serve.  Thank you to those who voted.  And special thanks to Lynda Finn and Winter for organizing and conducting a well-run election.
From Dave Postal:
36 brave souls weathered through the chilly 65 degree partly cloudy Southern California December afternoon to toss the tiles at our Winter Wonderland of Words Tournament in Long Beach on Sunday, December 8.   No frostbite was recorded and the tiles were hot, hot, hot for division winners Jem Burch (div 1), undefeated Ken Louie (div 2), Kevin Belinkoff (div 3) and Karen Sturm (also undefeated) in division 4.
Paul Rickhoff once again assisted me in running the tournament (an invaluably organized and low key person that fits in perfectly with all our oversized Scrabble personalities) and Joanie Scafuto provided photography of our winners.
Scrabblers were notified that tournament co-director Dave Postal has moved
to Palm Springs but will continue running tournaments in the LA area (for
now), but you can also expect a multi-day tournament out in Palm Springs
during the non-triple digit temperature months of the year (there aren't
that many).
Happy holidays to all from our competitive Scrabblers here in Southern California.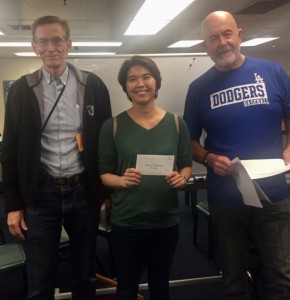 This year's election will include a referendum to approve/reject a proposed revision to Article IX, Section 3 of our bylaws. If approved, this revision will simply require WGPO membership for players in all future WGPO tournaments. Voting yes will greatly simplify record keeping for our organization in the future. The BPR and EC would greatly appreciate you voting yes! The proposed revision and full rationale are presented below. New language is in bold. Removed language is struck-through.
(3) Membership in WGPO is required to enter all WGPO-approved tournaments. While WGPO-approved tournaments normally shall be open both to all WGPO members in good standing, WGPO tournament directors and organizers also may offer approved invitational tournaments. WGPO tournament directors also may offer members-only tournaments.
Detailed Rationale for Proposed Changes: Right now, WGPO has a confusing system based on two separate classifications: players and members. Players are those who have played in our tournaments, and tournament data and basic information for all players (location, past tournaments results, ratings, etc.) is collected and displayed through our ratings database. Members are those who choose to join our organization. Our bylaws indicate that our only requirement to become a member is that they play some type of word game. Members in good standing are allowed to vote in elections, serve on committees, run or nominate others for elected office, etc.
In our current system, players do not need to be members to participate in tournaments and members don't have to play/participate in our events to join WGPO. While this dual classification allows extra flexibility for players new to our organization, maintaining two separate, yet interacting, databases for players and members requires a lot of ongoing work for our volunteer staff, but seems to offer few benefits.
To address this complicated system, we are proposing merging players/members by requiring membership in WGPO to participate in future WGPO tournaments. For current members, nothing will change. You will still be allowed to play in tournaments, participate in elections, and volunteer as normal. Non-members will simply need to join WGPO before their next tournament. Since most active players are already members and membership is free, implementing this new requirement should go fairly smoothly. Currently there are fewer than ten players currently signed up for upcoming tournaments in 2019-2020 that are non-members.
Implementing this change will require a small bylaws revision, which is where you as members are needed. The Executive Committee and Board of Player Representatives is asking you to vote YES on the proposed bylaws revision this December.
Dear WGPO Members,
It is time for our annual election. Your vote matters. This year there is an important bylaw change that requires approval by two-thirds of those members voting on the revision, as well as 2 candidates for the 2 Executive Committee seats and 4 candidates for the 3 Board of Player Representative seats.
If you registered or voted in either of the previous two year's elections you have already been emailed a ballot. If you did not receive a ballot and would like to vote, please email your request to elections@wordgameplayers.org and you will receive a ballot by email. Electronic voting ends on December 14th (11:59pm Pacific time). You may also request a paper ballot, but it must be received by December 14.
On behalf of the Election Committee,
Lynda Finn and Winter
From Steve Pellinen:
David Gibson passed away on November 22, 2019 after a fight with pancreatic cancer. It's hard to say he lost that fight, because he and wife Nancy are devout Christians who see this as just another step in their journey of faith. Nevertheless, he will be missed by many in the various circles in which he moved. He was a gentle man, and a gentleman, and yet was a fierce competitor in the game he loved and mastered to a degree unmatched by all but a very few.
He didn't play as often as many others, but when he did he often dominated the field with his somewhat unorthodox defensive style that stymied so many of his opponents. He leaves the Scrabble® world with the top ratings in both NASPA (2200) and WGPO (2166). His legacy includes the giving of his name to tournament lore and terminology, when in 1995 he dominated the strongest field of players ever assembled at that time for the Superstars tournament.
The term Gibsonization was born when tournament organizers were faced with an unexpected dilemma. 54 of the highest rated players in North America gathered in Las Vegas to compete for an unprecedented $50,000 first prize. But there were also significant lower prizes to be had with the $100,000 prize fund, and going into the last day of the 24 round event, David Gibson held a four game lead with three games to play. He had already clinched first place, and the organizers were concerned that David would either not play optimally with nothing on the line, or would continue to dominate the next ranked players in the king of hill format in a way that would somewhat unfairly give lower ranked players who wouldn't have to play him a chance to move up in the final standings.
In a stroke of debatable genius, a decision was made to pair David with the players with the worst records for the last three games, thereby allowing the remaining equally motivated contenders to play amongst themselves for the lesser prizes. Ironically, in the final game, the last place player, Rodney Nivison, defeated Gibson. Some of the players started using the term "Gibsonizing" to humorously describe what happened on that last day. The relief felt by the top contenders was balanced by the dismay the last place players felt when, after obviously struggling to no avail for three days, seeing they were paired with David. That dismay disappeared when David, in another unprecedented act, generously shared a significant portion of his winnings with every other player.
Tournament pairings changed forever on that day, as more and more directors used the same approach in their tournaments. Today Gibsonization is routinely used, though it has been modified to match the winner with the highest ranked players that cannot win a place prize. The last place players are no longer dismayed, and, David Gibson, ever the gentleman, would like that.