38 of us enjoyed a full day of games at the warm-up event for Phoenix 33.  Results:  PHX XXXIII Early Bird
Fourteen of us played 5 games at my house on February 11.  Dave Johnson won all 5, but the game I should have photographed was the one where Rich Moyer scored 641 points.  Laurie Collins was 4-1 to win Division 2.  Details:  February LO Results
Is your group listed in the Club Directory?   Should it be?
We list informal groups as well as tightly-organized clubs.  If you want to be included, contact me:  ruthhamilton@q.com
Ian Weinstein left Florida to brave the Minnesota winter.
It worked well for him.  He won 23 of 32 games, topping former Redeye king Tim Adamson, who came in second with 20 wins.  Iowan Mike Johnson, more accustomed to the climate, crushed Division 2 opponents, winning 27 games.
Details at Redeye 2017
Jeff Clark of Michigan won the Pinkeye. Details:  Pinkeye 2017
Lots of fun and prizes were in store for the 40 scrabblers at the Courtyard Marriott in Monrovia, CA on January 8th. Richard Stein won a brand new scrabble board for gaining the most rating points (79). Ken Louie won a set of protiles for defeating his opponent by the largest margin (264). Monetary prizes were given for high game, high loss, and high play in all five divisions. Rachel Knapp won $20 for playing a word containing the most letters in "MaddyRoy"-amorally. The top two players in each division earned higher monetary prizes for their success.
Division winners were David Pearl, Richard Stein, Ken Louie, Najat Reikes, and Laurie Holz. All results are posted on The WGPO website.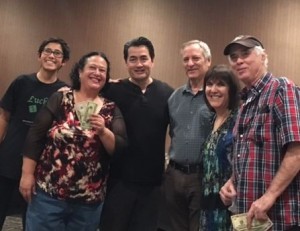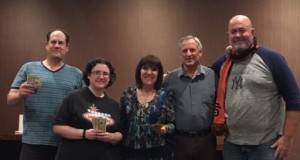 It feels like winter in most of the country, but let's think about warmer weather . . .  And our big tournament this summer:  Word Cup VII in Springfield, Massachusetts!
Melissa and Ann and Mike are planning an exciting event, with lots of games and social events.  Don't miss out.  Plan now to join us July 29 thru August 2.
Details here: http://wordgameplayers.org/brochures/Word_Cup_7.pdf