Director Dave Postal sent these pictures. Complete tournament results: Long Beach.
Peggy sent us this summary – with pictures:
14 women from 7 different states across the US convened for our 8th and final GRITS (Girls Retreat Including Tournament Scrabble) along the Grand Strand, Garden City Beach, SC. The week began with a day of relaxation as everyone arrived. On Tuesday, Angela Dancho directed our first GRITS early bird, which was swept by Mary Atwood, followed by Lindsey Dimmick and Angelo Dancho. We experienced quite a treat when Gullah native Addle Mae Goback joined us for an evening of Gullah culture and story telling. Bright and early Wednesday morning, the group travelled en masse to the Thomas Yawkey Wildlife Center ( gift from former a Boston Red Sox owner) for  a morning along the coastal marsh and estuaries to view sea birds, alligators and other wildlife and learn of the interplay with Gullah culture. The tourney got underway on Wednesday afternoon and ended Friday. Again, the winner was Mary Atwood, followed by Andrea Hatch, and Angela Dancho. Performance prizes went to Jan Konkol and Patricia Saito-Stewart. Tourney results can be seen on the WGPO website, GRITS VIII. The highlights of the week included absolutely beautiful sunny, warm weather and calm surf. We had daily morning entertainment by local dolphins…and of course food, lots of very good food! It is bittersweet for me that this will be my last time to host GRITS. I do look forward to offer other different coastal options in the future. The SC beaches are hidden treasures which should be shared. So, until then wishing you gentle breezes and warm waves.
By: Peggy Grant
Actually, we've been playing in Clackamas for three years now.  As far as I could tell, everyone had a good time.  Some players would have liked to have won more games, but they're probably already looking forward to the next tournament, anyway.  The hotel treated us well (Scott Smith made the arrangements), Rich Moyer did a stellar job of directing, and we had lots of help from the players.  Peter Armstrong placed first in Collins,  Details: LDW Collins   Jon Shreve won in TWL Division 1, Bennett Jacobstein was the Division 2 winner, and Anne Newberry topped Division 3. Details: LDW TWL
Scott Smith took these photos
From Steve Pellinen: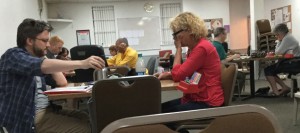 We've been doing rated Last Tuesday Tourneys for six months now, with anywhere from eight to 24 players showing up for five games on our regular club night, a change of pace from our usual four game club sessions.  The first four rounds are NAST-paired (equal strength field for all players) with 20 minute clocks.  The final round is king-of-hill with 25 minute clocks, and we're done at about the same time as a regular club session.
If at least 16 players show up, we go with multiple divisions.  A 10-dollar entry fee covers our venue rental ($3.50 per player), a few place and performance prizes and numerous small five dollar prizes for various categories.  On August 29, San Francisco visitor Andrea Michaels, seeded seventh out of 12 players, finished a perfect 5 – 0 for top honors.  Here she's shown in her final round matchup for all the marbles with Carl Voss, interesting because they are fellow Harvard grads, middle of the field seeds, and both masters of crossword puzzles – she at creating them, he at solving them.  Andrea won by six points.
We have a 35-year history at the Grand Canyon.  It's a magical place.  Please join us there this year and experience it for yourself.  Details:  Grand Canyon Flyer
Mike Baron and the late Stan Rubinsky organized the first tournaments there.  Here are some pictures from Elizabeth Wood's archives: