This intrepid group played 16 games while cruising the Caribbean.  Tournament results: Cuba results.
Thirty players celebrated St. Patrick's Day in LaCrosse, Wisconsin, by playing 13 tournament games, followed by 10 more on the 18th.  This was a replacement for the much-loved 30+ game Redeye.  We all enjoyed the games, the opponents, and the plentiful food.  Mike Johnson directed.  Division winners were Lisa Odom, Dave Postal, and Pat Yovonovitz.  Results: Greeneye Results
From Maddy Kamen: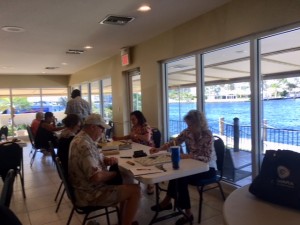 Here are some pics from our lovely tournament held right on the Intra-coastal- Division One winners were Ron Tiekert and Maddy Kamen. Division Two victors were Tracey Ruhlman, Dianne Kaplan, and Harriet Berkelhammer. Prizes were also awarded for high game, high loss, and high play in each division. In the Collins Division, Winter won handily with his 8-0 record.
The venue was beautiful, and everyone had a wonderful time, win or lose.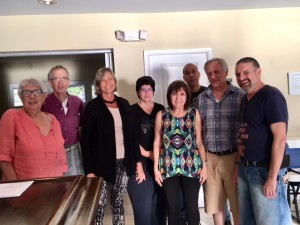 Dear WGPO Directors and Members,
It's that time of year again, and the Board of Player Representatives (BPR) and Executive Committee (EC) is starting the process of selecting the venue for Word Cup 2019! To make this great event more accessible to a wide range of players, we try to bring Word Cup to a different region each year. For 2019, we are focusing our search for cities in the Upper Midwest and Southeast United States. If you or your local club is interested in hosting Word Cup for 2019, now is the time to start gathering proposals from local venues.
Please submit venue proposals for evaluation by April 15th to the Executive Committee at
Proposals should include
Short cover letter listing the venue, available dates, contact information for the proposed leadership team (include potential directors and organizers, at least one of whom is local), nearby airports or attractions, and other highlights/challenges for this venue.
Copy of proposal from hotel venue including room rates, room block requirements, playing room costs and banquet minimums, parking fees, any hotel incentives, etc.
After April 15th, the BPR and EC will start evaluating all proposals received and coordinating with prospective organizers if additional information is needed. Proposals will be evaluated based on the following criteria:
Region: Venues in the Upper Midwest (Illinois, Iowa, Missouri, Minnesota, Wisconsin, etc.) or Southeast (Florida, Georgia, Carolinas, etc.) will have priority.
Quality of accommodations and playing space
Location: Proximity to major airport, scrabble population centers, restaurants and local attractions, etc.
Total Cost: Hotel room rates, room block requirements, playing room and equipment costs, banquet minimums, parking fees, hotel shuttle, hotel incentives and amenities, etc.
Dates: Preference will be for bids in July or early August and those that do not conflict with other major events or holidays.
Availability of local organizers/directors/players to help run the event.
Do not hesitate to contact any of us on the EC or BPR if you have questions about the selection process or have specific questions regarding a hotel proposal you have received. If you or your local club is considering submitting a Word Cup proposal, please let a member of the EC know by March 15th. This will help us coordinate with local directors/organizers as proposals are being gathered.
Thanks,
The Executive Committee of WGPO
Keith Hagel
Mike Johnson
Steve Pellinen
From Dave Postal:
To help us promote Word Cup 8 (and release your inner Don Draper), we are holding a T-shirt logo design contest. The winner will receive FREE ENTRY to Word Cup 8 (a $120 value) and, obviously, a free T-shirt featuring your design. The contest will run from March 1-15, and we hope you will submit your design ideas to us during that time.
Official contest rules are here:   Contest Details.
Submit drawings/sketches/etchings/renderings by March 15 to: Dave Postal gopostal24@gmail.com. Or Bennett Jacobstein bjacobstein@gmail.com.
There was some sun, but also clouds and wind.  It felt better to be indoors.  Good thing there was an opportunity for serious competition!
The tournament ran smoothly, as we've come to expect from Larry and Barbara.  Here are Larry's comments:
"In February, 2015, the Phoenix Scrabble tournament moved to the DoubleTree by Hilton in Phoenix/Tempe.  This year, we had our largest turnout for the Main Event; 80 players in the TWL event, and 8 players in CWS.  
A record eight players attended from the Salt Lake City, UT Scrabble Club.
We have been doing "fun" prizes for at least the past ten years.  This year we went to memorial prizes and honored Ellis Wyer, John C. Green, Jr, Nancy Thurson and Steve Polatnick.  All of them passed away within the last two months.  A short obituary was read for each player.  Four prizes per division were distributed for Saturday and Sunday morning and afternoon sessions.,The  four memorial prizes were your play contains EW, JG, NT and SP.
RIn addition to 97% of all entry fees ($10,090) being returned as cash prizes, WGPO received $550 in donations, and Word Cup received $1,000.  The monies over and above the entry fees were raised by two raffles, auction bid items, and for sale items contributed by the players, the Phoenix Scrabble Club, and partnership companies.  We appreciate everyone's support of the Phoenix 2018 tournament."
Results are under Past Tournaments
Photos are from vanrandtravel1.smugmug.com